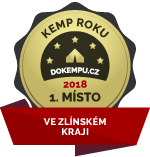 Camp of the Year 2018 in Zlínském kraji. Thank you.
19.4.2020 – 6.9.2020

There are planty actvities near our camp, some active some more pasive if you are not sure which one to take ask us.
WHAT TO DO NEAR THE CAMP

WE HAVE ALL YOU NEED FOR YOU TO RELAX
If you will be intersted in any kind of activity, Please contact our reception in the camp they will be plased to help you.
There is a bicycle rental shop in the center of the city. You can rent bikes for as long as you want. BIFU
Nice massage is the best way how to relax after activly spent day.